Shop By
Currently Shopping by:
Manufacturer:

SportsPlay Equipment

Remove
Price
Product Comparison
You have no items to compare.
Shop shade by design: cantilever, hexagon, rectangular, square, umbrella hexagon, umbrella rectangular, umbrella square, and more.
Outdoor Shade Structures
Outdoor play and physical exercise are incredibly beneficial to children's growing bodies. However, dangers lurk within the sun's warmth. High temperatures and UV rays that originate from sun exposure can cause serious health complications ranging from mild dehydration to lifelong skin diseases. While children may want to play to their hearts' content, caregivers and other responsible adults should take every precaution possible to protect these little ones from play-related dangers found in the outdoors. Investing in a high-quality, durable playground shade canopy can provide adequate sanctuary from the sun's heat and its rays while allowing caregivers to rest easy knowing that the children in their care are protected.
School Shade Structure Benefits
An outdoor sunshade is a perfect tool to control the temperature of large play areas found at schools and parks, especially in areas where trees are scarce. Effective shade structures for schools are sturdy and large enough to provide comfortable protection for both children and adults. Kids of all ages can enjoy the protection of sun blockers like our versatile fabric shade structures that can be installed over toddler-centric areas like sandboxes or larger equipment for older children. In addition, playground equipment shade structures can even act as an indirect insurance policy for the safety of your play space, as they work to keep playground equipment cool, reducing the potential for injuries.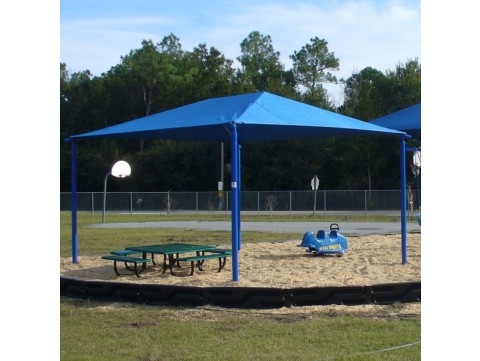 Each playground shade canopy has been specially designed to provide protection from the sun's rays at every angle. Individuals under our structures need only to find a comfortable place to sit and relax and can feel confident that they are guarded against the sun's rays and heat. A wide array of commercial shade designs and structures provide a corresponding variety of coverage and durability options. Consider how you want the shade structure to look and function. For example, those interested in buying park shade structures might benefit from choosing a structure made of extra-durable steel that can weather the elements for many years to come.
Park Shade Structures
Outdoor shade structures intended to be used at a park or as part of a private organization's backyard play area can be seamlessly integrated into the organization's theme, cause, or brand by choosing fabric shade structures in coordinating colors. The combination of material and color can say much about your establishment or the organization that you represent and its values. For instance, child-care facilities that have sturdy and protective playground shade covers may convince parents of their commitment to their kids' health and safety. Portable shade structures are also excellent for controlling temperatures in areas such as teaching greenhouses, cutting down on electricity use.
If you are a purchaser for your establishment or organization, compatibility with your company's brand or objectives can be paramount when choosing playground shade structures. Our commercial shade structures are available in several different colors, sizes, and designs to meet your needs and fit well with any themes that you may incorporate into your play space. Whether you're interested in covering an outdoor play space that has a standard shape or one with a unique topography, we have playground shade structures and covers that are right for you. For particularly unique play structures, we have combinations of regular geometric shapes that can fit perfectly over the most novel of areas. Permanent play areas are not the only places that can benefit from an outdoor sun shade. Cut down glare and reduce sunburn by adapting one of our sun blockers into a pool shade structure, or create the perfect picnic spot by installing a collection of permanent umbrellas outdoors to protect from both sun and rain.
At AAA State of Play, we've got you covered by offering the best affordable outdoor shades on the market. Simply use our intuitive filtering options to find and purchase the best shade structures available. Browse our extensive online inventory based on shape, price, or manufacturer and find the perfect outdoor shade canopy for your space. We'll even give you the tools needed to compare two or more structures to help you chose the best option for your organization, school, or business. We also offer free quotes on all purchases to better help our customers plan their projects, and we can even provide installation assistance to make sure that your structure is safe and ready for use. Contact our customer service team with any questions you may have about our products or to get personalized suggestions based on the look and function of your play space.