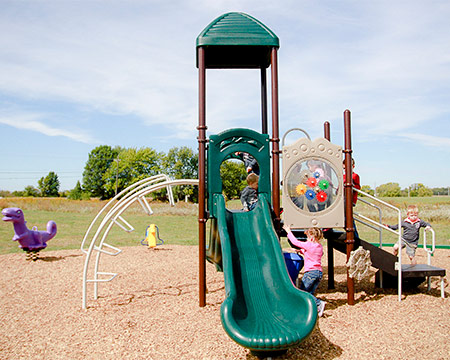 We ONLY Sell Commercial-Grade Play Equipment!
All park and public playground equipment found on AAAStateOfPlay.com is commercial-grade. This allows our park and school customers to shop with peace of mind, knowing that each product meets industry and safety standards. All of our products are safe for use in a public playground.
| Commercial-Grade | Facility Type | Residential-Grade |
| --- | --- | --- |

✔

Home Day Care

✔

✔

Child Development Center

✘

✔

Church and Faith Based Centers

✘

✔

HOA's and Neighborhood Parks

✘

✔

City, County, and State Parks

✘

✔

Private Residences

✔

✔

Public or Private Schools

✘
---
Common Questions from our Customers
What is commercial-grade playground equipment?
In using the word "commercial," we are referring to play equipment intended for long-term, high-volume public use, constructed with the highest-quality materials and design. The industry term "commercial" is loosely used to describe any equipment built to withstand use in any environment. Our commercial playground equipment for sale is built to withstand a variety of conditions, including climates from northern Alaska to the Florida Keys. Commercial equipment is tested to abide by nationally recognized ASTM and CPSC standards.
Why should I buy commercial-grade?
If the new or existing playground is intended for public use, you should buy commercial-grade equipment for many reasons, not just for its durability. Most insurers will require commercial equipment at schools, parks, neighborhoods, and churches. This insurance requirement is due to liability and safety of children in unsupervised situations.
Do you sell anything not commercial-grade?
No! All of our equipment is intended for a commercial playground. For sale, we have swing chains and seats, slides, seating, and much more. Most residential playground equipment manufacturers will NOT sell to churches or schools, as their products are not intended for public use. Selling a residential set knowingly for use in a public setting would make the manufacturer liable for resulting injuries.
The playground is for my home; can I purchase your products?
Absolutely! We sell commercial-grade playground equipment to many residential customers each year. However, price is generally a determining factor, and the cost of commercial equipment severely outweighs that of residential materials. Parents most often choose to buy smaller pieces of equipment, like a merry-go-round, sand digger, swing, or bouncer.
Is commercial-grade play equipment safer than residential?
Not necessarily, but commercial equipment is designed to withstand years of heavy use. An average park can be accessed by thousands of people a week. Our playground equipment works in any type of commercial setting. All playground equipment from AAA State of Play meets or exceeds national testing measurements for playground safety, including those in the CPSC and ASTM guidelines. The leading cause of injuries from playground use is inadequate protective surfacing, whether it is on a public playground or a backyard setting.
Where can I purchase commercial-grade playground equipment?
We sell online and ship playground equipment all over the United States, including Alaska and Hawaii, as well as Canada and Mexico. International customers are welcome. We have shipped all over the world, including China, Taiwan, and Australia. Unlike some companies, we are not limited to certain territories or countries. We work with a variety of shipping companies, primarily YRC Freight, UPS, and FedEx. The majority of our products ship freight.
Can I pick up equipment from the factory?
Yes. Our warehouses in Indiana offer a limited amount of commercial playground equipment for sale (45 products out of the thousands offered). Our playground equipment is manufactured in facilities in Alabama, Florida, Georgia, Indiana, Missouri, New Jersey, Pennsylvania, and China. Surfacing materials ship from various facilities throughout the U.S. and Canada. For more information on pick-ups, contact us.
Can I buy directly from the factory?
No. Commercial playground equipment manufacturers do not sell directly to the public. There are a variety of reasons involved with this. Some reasons include liability and tax, but the main reason is the inability of a single supplier to market on a national level. Thus, they rely on networks of distributors to market and sell their product to the masses.
Do you sell commercial playground equipment parts?
Of course! From chains to frame fittings to seats, we have everything you need.
Find more about the author: Kristen Breedlove