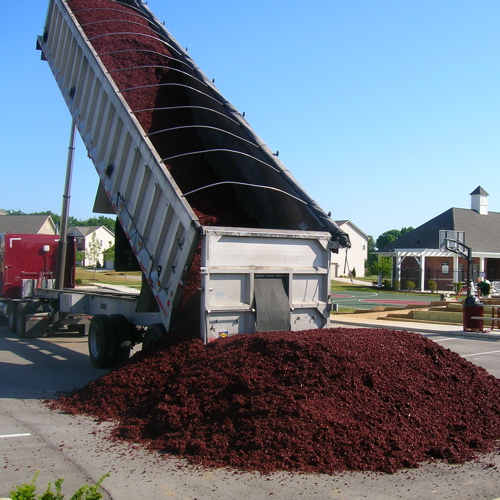 Rubber mulch is increasingly popular due to the unfortunate accidents that occur when improper playground surfacing is present. Generally, 4-6 inches of rubber mulch is enough for up to a 12 foot fall height. This means if your child falls from 12 feet, there should not be any critical injuries. Wear patterns will occur in your playground mulch when less mulch is applied. Due to wear patterns, rubber mulch requires periodic maintenance. Any loose fill surfacing requires maintenance. Poured in place and artificial turf offer a maintenance free surface, however are more expensive.
We offer rubber mulch in two thousand pound super sacks and in bulk form by way of truck. Bulk rubber mulch is offered in deliveries up to 23 tons at a time. For smaller applications recycled rubber mulch 2,000 pound super sacks offer an easy solution. When ordering sacks of rubber mulch, delivery can become expensive due to lift gate charges. If you have access to a forklift or a business with a loading dock, these charges do not apply.
We offer rubber mulch at the lowest prices in the industry. When choosing a rubber mulch, check to see if the mulch is ADA compliant and that it has undergone IPEMA testing. This will help verify that your purchase is going to be a long lasting investment. Our mulch is both ADA accessible and IPEMA certified for public playground use. In the past rubber mulch contained large amounts of scrap metal from the tires. Today giant machines and magnets remove all the metal from the mulch. Some mulch on the marketplace still contains this metal, so be careful with local manufacturers. Our mulch has been selected due to the high quality of paint, lack of metal, and safety testing (IPEMA & ADA).
Recycled rubber nugget mulch is an investment in playground safety. Protecting falls from equipment is important as accidents will happen. When choosing a site check your drainage and if there are any problems, these need to be addressed before your surfacing is put down. If you are putting surfacing at ground level, an irrigation system must be set up to properly navigate the water flow into pipes and away from the playground.
Find more about the author: Kristen Breedlove