Have Questions? Call 1-877-826-2776 to Speak to a Real Person

Contact AAA State of Play Today (click here)
Top Ten Playground Items That Are Not Structures
Sometimes you want all the fun of a huge playground, but you just do not have that much space available! The list below will show you some of the popular items to include in your playground that aren't structures. These items are a great add-on to any playground with a structure, but they are fun enough to stand alone!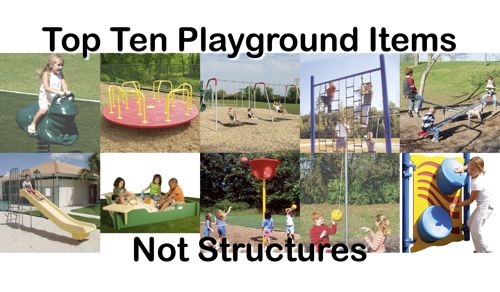 Spring Riders - Made for one, two, and four passengers, Spring Riders come in a variety of designs and colors. From the traditional design of seats on a horizontal pole to the fun designs of a jet ski, dinosaur, and a frog, there is sure to be one that is right for you.

Merry Go Rounds - Merry Go Rounds have always been extremely popular. Kids love running with it and hopping on to spin around in circles. From the traditional design to the more modern styles, Merry Go Rounds are a playground staple!

Swings - Swings are the perfect piece of equipment for a fun time. You choose the style and seat you want for your playground. Belt seats, bucket seats, ADA accessible seats, and even tire swings all make for a good time on the playground.

Playground Climbers - Free standing Playground Climbers offer a variety of difficulty levels! Children can improve their strength while having fun at the same time. Rope and panel climbers to overhead climbers and everything in between promise a fun challenge.

Seesaws - Seesaws are another traditional playground item that has stuck around for years. Kids love soaring up and down on the Seesaws! Whether you decide on a traditional Seesaw design, or a modernized spring design, children will love this item.

Playground Slides - Free standing Playground Slides are popular add-ons to playgrounds, especially if there is not room for a large structure. Kids love zooming down the slides, twisting and turning along the way. With so many types of slides available, there is always one that is right for you.

Sandboxes - Kids love to build sandcastles! Placing a Sandbox in your playground is a fun way for kids to express their creativity. With a variety of sizes, you will always find one to fit perfectly in your playground.

Funnel Ball - Funnel Ball is a popular playground game that involves players tossing a ball up into the top of the funnel and seeing which hole the ball comes out of. Each hole is numbered with a certain amount of points. First player to the designated number of points wins! It is a fun and easy game for even the smallest of playgrounds.

Tether Ball - Kids love hitting the ball back and forth while playing Tether Ball. A rope attaches from the top of a pole to the ball and players try to hit the ball around the pole and wrap the rope around until the ball touches the pole. This is another fun playground game that doesn't take up much room.

Game and Music Panels - Free standing Game and Music Panels provide kids with additional fun activities. Play a game of tic-tac-toe or beat a rhythm on the free standing drums! It is a different kind of activity that kids will be drawn to!
Have Questions? Call 1-877-826-2776 to Speak to a Real Person

Contact AAA State of Play Today (click here)